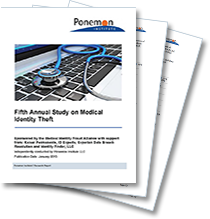 Fifth Annual Study on Medical Identity Theft
The Fifth Annual Study on Medical Identity Theft measures the prevalence, extent and impact of medical identity theft to consumers and the healthcare industry in the United States. The study was sponsored by the Medical Identity Fraud Alliance (MIFA) with support from MIFA Founding Member companies Kaiser Permanente, ID Experts Corporation, Experian Data Breach Resolution and Identity Finder, LLC, and conducted by the Ponemon Institute.
The incidence of medical identity theft continues to rise. This most recent report shows that it has nearly doubled since the first study five years ago. In 2014, there were almost 500,000 more victims than in 2013.
The out-of-pockets costs to victims has also grown, with twice as many victims experiencing financial costs to correct their medical identities and deal with the resulting problems.
And victims continue to experience serious risks related to their healthcare as a result of being victimized, such as misdiagnosis, mistreatment and delayed healthcare.
Given the high volume of medical records and personal information leaked by healthcare providers and payers, organizations are now more focused on reducing how much unprotected PHI they store and shrinking the target hackers go after so that fewer patients are exposed to the risks of medical identity fraud. Identity Finder was glad to participate in a study that explains what the implications of that unprotected data are for users—and the companies who provide services.— Todd Feinman, CEO, Identity Finder LLC
How to Get the Study
MIFA Members and Partners, contact Ann Patterson for your complimentary copy. If you are unsure if your company is a member or partner, please see our roster.
To obtain a copy of this report, please make a donation, of any amount, to support our mission to reduce medical identity theft and fraud. You will be directed to the paper after your donation.
Thank you to our Sponsoring Members
We especially thank our sponsors for their support of the 2014 Fifth Annual Study on Medical Identity Theft and for their commitment to keeping consumers safe through the prevention, detection and mitigation of this growing problem.